Independent reviews
We have been assessed by independent reviewers from Your Dog magazine. They visited and did a full write up which was published in Your Dog magazine. We were delighted to see that we were the only dog friendly accommodation in Cornwall to receive the maximum 5 stars in all three of their review categories.
You can read the full review here (2Mb file).
When we won our awards at the Cornwall and South West Tourism awards the judges said of us: "Exceptional dog friendly accommodation with everything a dog owner could want."
A reviewer from Rover Recommended stayed for a week and gave us an extremely positive review, awarding us their maximum rating. They said "the accommodation has to be the most dog friendly in Cornwall".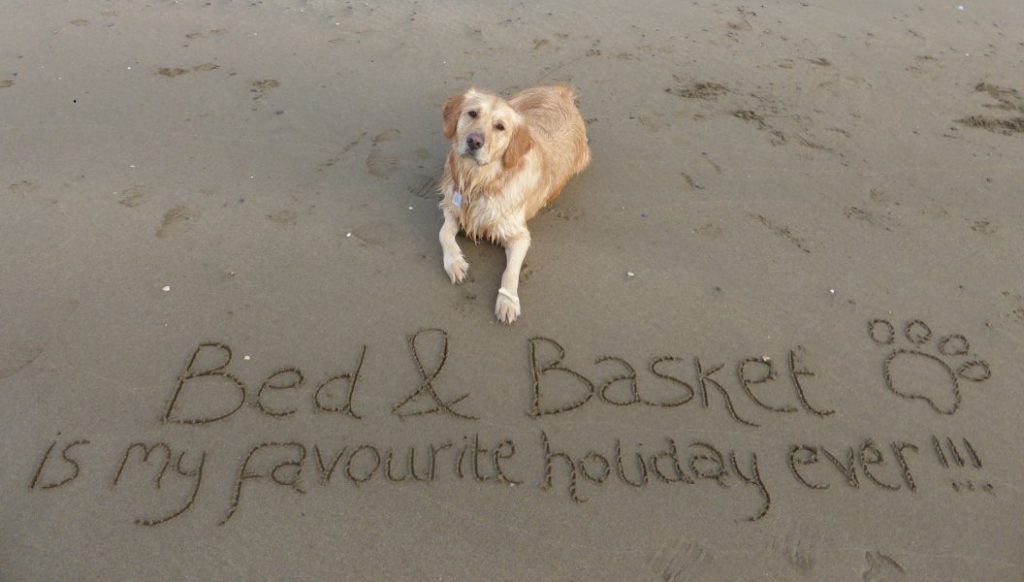 Guest comments
Below are some of the comments left by previous guests who have stayed with us. Many thanks to all the guests who have left comments.
"A Wonderful Place for Dogs and Their Humans!
Having stayed at Bed and Basket many times over the last eight years (well into double figures) it's about time I posted a review.
We have stayed in supposedly 'dog friendly' accommodation in many parts of the country and have not found anywhere offering similar facilities to such a high standard. Sometimes we have stayed multiple weeks and so have seen at first hand the thorough cleaning regime that the team carry out between guests – several hours are spent each time on a deep clean and preparation. Dawn and Brian are at the same time professional and friendly and are on hand to offer advice and support if needed. If you need anything just ask! So…
Good Points.
Wonderful peaceful location. Lots of space – this means relaxed people and dogs. Cleanliness. Friendly team. Well kept gardens offering plenty of space for dogs and people. Characterful barns. Genuinely dog friendly – not just 'dog tolerant'. Rural location but close to everything that makes a good holiday. Plus the look of joy on your dogs face when you arrive and they realise where they are!
Bad Point.
Having to come home!
Our 2nd visit to bed and basket, such a wonderful place. Lovely hosts, clean and well equipped barn. Welcome pack for humans and doggies. Would recommend to anyone. Have already booked our 3rd visit. Can't wait to return.
Our second visit here in Tressa. Just as amazing as our first visit. The facilities are well thought out with such lovely personal touches. Very dog friendly. Thank you Brian and Dawn, we love what you do.
Immaculate and well thought out. Perfect place for dogs and their owners. Rested and recharged out worn out batteries.
First visit to Bed and Basket, loved it. Sad to leave after a relaxing week. Humans and dogs loved every minute. Very relaxing and tranquil. Would definitely recommend it to my friends and family with dogs.
This is our eleventh visit which says it all! Just love it here, as do the dogs.
Great place to take your dogs. Safe exercise area and excellent place to stay with all mod cons.
Fantastic facilities for all of us to enjoy. Brian and Dawn have thought of everything for humans and dogs.
Bed and Basket is pretty close to perfection. I don't think I've ever stayed somewhere the online photos and information matched reality so well.
What a place! Such a fab idea for dog lovers like ourselves who won't leave their dogs in kennels. They really have thought of everything.
The most excellent dog friendly holiday, everything you could possibly want is provided and all so very clean it is hard to imagine dogs have ever been in the accommodation.
Perfect for people and their dogs. We have loved it so much we've already booked for next year, and we haven't even left yet.
We left Bed and Basket today having had the best time ever. The accommodation is faultless. Everything you may need is there for you. We had with us 7 dogs between us and were made to feel very welcome. It doesn't get any better than this !!!
The accommodation at Bed and Basket is first class super dog friendly. I had searched tirelessly to find somewhere that would accommodate 4 dogs with beautiful scenery, relaxing days and walks on the beach. Bed and Basket had everything that we needed.
Amazing accommodation. Never been to a place that managed to think of everything we might need, and more.
5 star accommodation for people and dogs. We have loved every minute of the holiday. Thank you for a great experience.
Really couldn't have asked for a better holiday everything was absolutely perfect, so much thought has gone into making it the perfect place to stay for dogs and their humans.
Our fourth visit in four years with our 3 Labradors. Once again, a lovely stay with the accommodation being kept in tip top condition.
This is our second visit and we couldn't wait to come back. The dogs absolutely love it here. Roll on next year.
What a lovely place – the fenced area is an absolute godsend with 2 dogs who cannot be let off a lead unless in an enclosed area. Thank you so much, we will see you again.
Love that this is such a practical place to bring dogs, especially ones that seek out smelly stuff to roll in – love the hot and cold showers outside.
Just returned home from a wonderful week at the doggy-friendly paradise that is Bed & Basket!! Can't wait to return, it's perfect in every way.
We loved our stay late last year – everything you could possibly want and a bit more besides.
Again, a wonderful holiday. Superb accommodation. We all totally relax when we are here. See you again.
This is a perfect place for dogs and Lola adored the garden. We don't want to go home.
This is our 3rd year at Bed and Basket and it is as good (even better) as our first visit. It has been another wonderful week.
Accommodation is superb as are the facilities for your four legged friends. Looking forward to my next visit.
Perfect, perfect place. Our dog never had so much freedom. We will be back!
Wonderful place, highly recommended and perfect for dogs. We can see the passion you have put into it.
Another fab holiday at Bed and Basket. It really feels like a second home. Amazing facilities. We love it.
Had a wonderful time at the best dog-friendly accommodation in the UK.
Brilliant holiday, Fantastic accommodation, will tell our friends.
As always, a superb holiday break. This place is my favourite. Syd and Jake (our dogs) think this is their second home.
Love this place and can't wait to come back. Great holiday for dogs, never been to a place like it, where the dogs are just as welcome.
This is the most amazing place for a holiday with or without your dogs. The facilities are second to none both for the humans and the dogs.
Excellent accommodation. Real home from home. Patio + exercise area a brilliant idea.
Amazing accommodation, fab location. Everything we needed (and more) for a perfect holiday with our dog.
Thank you for the opportunity of a wonderful holiday. You seem to have thought of everything to make our stay comfortable. The dogs have loved it too.
An amazing cottage, great facilities, homely and comfortable. The dogs loved it!! Will be back soon.
Beautifully finished and great facilities inside and outside for the dogs. Wonderful stay and will definitely be back.
The best holiday I've ever had! Really hope my humans bring me back again!
We have had a wonderful holiday, great accommodation and facilities. We will definitely return.
We all had a fantastic holiday (including Millie), loved the barn, all the facilities and great views. Would love to come again soon.
Perfect holiday retreat with baby and dog. Everything had been thought of and we were left needing nothing.
You have a fabulous facility here and we and 'the boys' are already looking forward to our next visit.
Superb accommodation, have stayed in many dog friendly places but this is by far the best. Will definitely be recommending it to our friends.
Where do we start? Accommodation fantastic. 5 Star. Garden and surroundings- awesome. Brian and Dawn, well they are great, nothing too much trouble (even when we locked ourselves out!), their knowledge is second to none. Already planning another stay and bringing friends. Well done, keep it going, all we wanted from a holiday and more.
A gorgeous, lovely, relaxing home from home. Really Friendly. Well done
Thank you for a lovely stay! Great accommodation and with your focus on dogs you've hit on a real winner!!
Made to feel very welcome couldn't do enough for us- we will definitely come again ! Good luck
Loved the bed-water bottle & ball launcher- thanks – Pebbles xxx
Brilliant holiday, Fantastic accommodation, will tell our friends.
Thank you and we wish you every success in the future, I think you have got the balance right, good to chat to, you socialise when outside but give people their space too. A pleasure to meet you both.
We have had a lovely break away. The accommodation is absolutely brilliant we didn't want for anything. Home from home, we stayed in most nights as it was so comfortable. We will tell everyone we know and we wish you all the success, fab idea. Hope to experience Bed and Basket again.
Stunning accommodation, cozy & relaxing after a great day of exploring coastal paths & beach frolicking! Warm & very friendly hosts, a winning combination. We look forward to returning.
PS Fantastic eggs! Go chickens 🙂
We have just returned home from a weekend at the fantastic Bed & Basket. We have a Doberman boy and a Golden Retriever girl who enjoyed their weekend as much as we did. We've stayed at many cottages and hotels over the years with our dogs. This offers boutique hotel style accommodation – stylish, luxurious and modern yet cosy and totally dog friendly.
Accommodation well thought out, hope it is a big success for you. Had a pleasant stay, hopefully we will be back next year!
Fab accommodation, lovely hosts. Everything you need and more. We don't want to go home! We will def be back next year. Frodo and Magnum have loved it (Esp barking at the chickens!!)
Thanks so much for a wonderful week. Couldn't have wanted for anything more. Loved the accommodation, perfect for us and add to that a fab week in Cornwall. Chester has had a fantastic time too!
Brilliant accommodation everything you need for a wonderful holiday. We really enjoyed our stay here and look forward to returning.
Great accommodation. Rocky loved the exercise field & barking at the chickens.
Happy New Year! Had a lovely time, the barn is great, the dogs love the under floor heating. Be careful with the Cornish Rattler! (local cider)
Brilliant yet again! Lovely and cosy, dogs loved the walks and you were right, Sharks Fin at Mevagissy – yumm
Really fantastic stay, everything perfect. Sweep and Daisy have loved it. A home from home
What a fantastic retreat. Beautiful setting and accommodation and only a stone's throw from the coast. Thank you both, we had a wonderful time.
Peaceful and nicely finished apartment. Great location for dog friendly places.
It's difficult to say what Stanley enjoyed most;
1) Chasing the trains
2) Barking at your chickens
3) Lying on the heated floor
Ahh, it's a dog's life!!! We had a brilliant time, you really have thought of everything. Many thanks, we'll be back.
Everything was made so easy for our stay here. All has been considered.
Perfect! Thank you so much for thinking of everything and more.
Fabulous place – a real 'home from home' in a super area. Our Doberman and retriever loved the garden.
Our yorkies and chipin loved it as did the owners! Beautiful, tranquil, 5 star quality and wonderful touches.
Great place, great location. Bella loved it, as we did too!
A wonderful and stunning location, supreme hospitality … wonderful welcome and a relaxing break away from home. Thanks heaps
Lovely cottage, we had a fantastic time, great location, we will definitely come back.
Such a lovely place, Had a brilliant time, thank you.
I knew before we got here that it was going to be good and it definitely was. Thank you for our lovely break and being so understanding about beagles. Definitely be back again.
Superb accommodation. Pip loved his basket of goodies especially the ball launcher! He also enjoyed bombing around the garden. Many thanks for a fantastic week and we will definitely be back soon!
Fantastic holiday and lovely peaceful retreat – loved the cliff walk at Mevagissy. We don't have a car, but bus trips are easy from top of the road. Thank you Brian and Dawn."
All comments are taken directly from our guest comments books, which are freely available to visitors, or our Facebook page.